Can't make it in? Order our full menu online for take-out and delivery.
We provide catering services for both personal and corporate events, as well as celebrations, birthdays and more!
JoJo Carloni's is a family-owned-and-operated business, serving only the highest-quality food at a reasonable price. In addition to price and quality, our mission is to give our customers the best service possible! Call today to reserve a space, or drop by for an impromptu night out with friends!
We're always cooking something up:
Click For Our Daily Specials!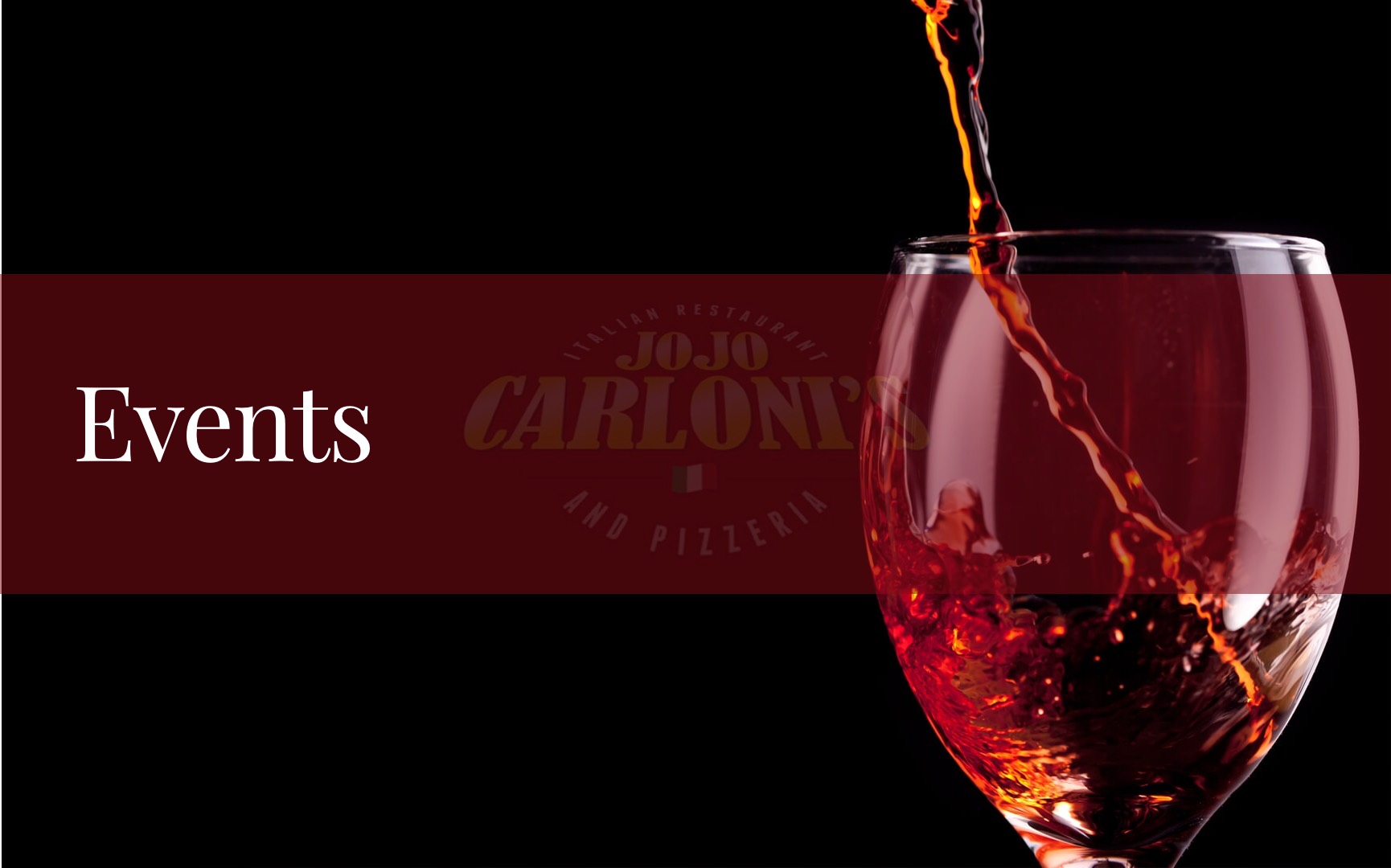 June 2nd –  Sunday 2-6PM
Justine's Fight For Joshua
Adults 21+: $30 includes 2 drink tickets and all you can eat.
Under 21: $20 includes soda and all you can eat.
Pizza, penne w/ marinara, chicken tenders, meatballs, and dessert. Tickets available for purchase at the restaurant.
Click Here To Download The Flyer
June 9th –  Sunday 2-5PM
Thirsty For Art! Italiano!
Berea Arts Fest – $50 per person
Includes: 2 drinks, Creative Italian Buffet & Raffle Prizes
For tickets contact Gina Madzy at 440 391-0144
Click Here To Download The Flyer
Homemade Italian Food in Your Neighborhood
Peruse our menu of Antipasti, Baked Dishes, Homemade Soup, Signature Pastas, Speciality Pizzas & more!
Dine-in for a fresh, authentic Italian lunch of Speciality Pies, Calzones, Homemade Soup and more!
Our Speciality Pizzas are like no other with our homemade secret red sauce.
Can't make it out? Forget about it! Take our fine, homemade Italian cuisine home to your family for night in.
Nothing brings a group of people together better than food. We offer expert catering services for your event, celebration or corporate party.
Order some vino and have a seat at our upscale bar with your colleagues, family and friends. 
MON – THURS
11:00am – 10:00pm

FRI - SAT
11:00am – 12:00am


We provide locally sourced produce, low sodium, low butter and Vegan sauces.
*CONSUMING RAW OR UNDER COOKED MEATS, POULTRY, SEAFOOD, SHELLFISH, OR EGGS MAY INCREASE YOUR RISK OF FOOD BORNE ILLNESS. THESE ITEMS ARE COOKED TO ORDER.*
Jo Jo Carloni's Italian Restaurant & Pizzaria
627 West Bagley Road
Berea, OH 44017
In the Helwig Whistle Stop
Phone: 440-235-8880
Email: jennifer@carlonis.com
Find Us On:
Join Our Team
We're always looking for talented people who love Italian Food as much as we do.