Family Style
Take-Out & Delivery Menu | NO DELIVERY FEES! | Availability subject to change based on time and order volume. We suggest ordering a few hours prior. PLEASE NOTE: We will not have family style pickups after 5:00pm.
Your Go-To Takeout Food
Cooking dinner for your family every night can be exhausting, but purchasing greasy, processed food isn't a great solution. What you need is something fresh, something yummy, and something fast.
Fortunately, we can provide you with just that. Order our family-style dinners from the takeout menu and have dinner ready when you need it. All of our dishes are handmade with fresh, locally sourced produce and ingredients. Feel good about ordering in. We promise the rest of your family will love it too.
Family Size, Please
Ordering takeout can get complicated pretty fast. When everyone wants something different, it can take a long time to decided where to order from, let alone what to get. At Jo Jo Carloni's Italian Restaurant and Pizzeria, we make it easy.
Order food that the whole family will love in a simpler way. When you order from our Family Style menu, you'll get enough pasta, salad, and hot-out-of-the-oven garlic bread to feed five to six people. If you aren't in the mood for pasta, that's okay. You can swap it out for another entree.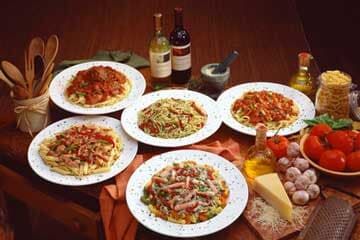 The Most Important Meal
Most people agree that dinnertime is one of the most important times of the day. Studies have been done about the effects of eating dinner together as a family, and the results are amazing.
Family dinners help promote healthier eating, have been shown to improve behavior in adolescents and help develop meaningful relationships. In fact, some cultures around the world consider dinnertime to be sacred. Although you might not think of dinner in the same way, we still think you should enjoy that time with your family. Let our team help you do that. Place an order now.
*Consuming raw or under cooked meats, poultry, seafood, shellfish, or eggs may increase your risk of food borne illness. These items are cooked to order.
TUES – THURS
11:00am – 9:00pm

FRI - SAT
11:00am – 10:00pm


We provide locally sourced produce, low sodium, low butter and Vegan sauces.
*CONSUMING RAW OR UNDER COOKED MEATS, POULTRY, SEAFOOD, SHELLFISH, OR EGGS MAY INCREASE YOUR RISK OF FOOD BORNE ILLNESS. THESE ITEMS ARE COOKED TO ORDER.*
Join Our Team
We're always looking for talented people who love Italian Food as much as we do.